---
† †
---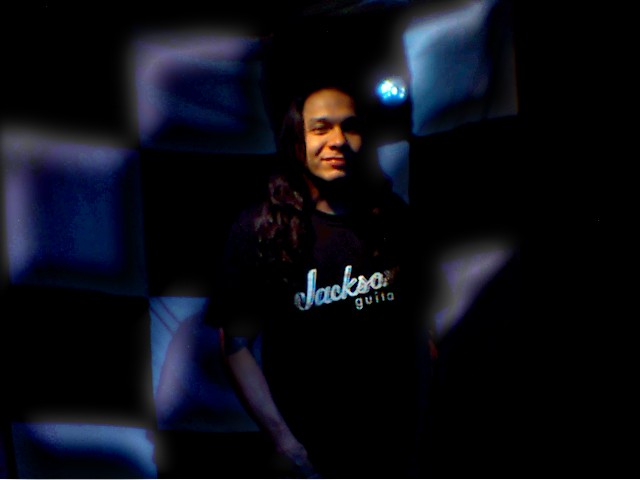 Personal Info
Frank Flores
May 1, 1971
San Antonio, TX
Native American Indian
Musician, Vocalist, Guitarist, Bassist,
Songwriter, Performer, Recording Artist
Music Background
Saxophone 3 Years
Guitar - Current
Bass Guitar - Current
Vocalist - Current
Song Writer - Current
Producer - Current
Recording Artist 14 Years
Music Theory I & II
Advanced Music Theory I

Solo Projects:
A Crippled Regime
Hex Eleven
Los Vatones

Past Original Bands:
Medallion and Amnesia

Past Cover Bads:
Wreckage
Tamale Crue
Inside Out
Four Count
Musical Writing Styles
Easy Listening
Slow Rock
Hard Rock
Fast Rock
Heavy Metal
Black Metal
Thrash Metal
Country
Corrido


Inspirations
Bands/Musicians/Artists
Love On Ice, Metal Church, Stone Temple Pilots, Led Zeppelin, Helstar, Testament,
Sepultura, NIN, CrimsonGlory, FatesWarning, Tool, Radiohead, The Cure, Saigon Kick,
A Perfect Circle, Premonitions of War, Deftones, Angkor Wat (band), Mercyful Fate,
The Beatles, Bile, Skinny Puppy, Watchtower, Johann Sebastian Bach, Yngwie Malmsteen, Faith No More,
Dokken, Ratt, Cannibal Corpse, Sting, Jeff Healey, Katie Mulea, Aretha Franklin, ßjörk, Randy Rhoads,
Ron Jarzombek, Frank Aresti, Jim Mathos, Vivian Campbell, Hank Sherman, Michael Denner,
John Drenning, Kirk Hammet, Ita B.B.
People/Places
J.F.K., Charles Horton Cooley, Tutankhamun, Sophocles, Nostradamus, Max Weber,
Carl Sagan, Thomas Edison, Aristotle, Socrates, Pythagoras, Plato, Karl Marx, Tokyo, Japan,
The Great Wall of China, The Grand Canyon, Valley of the Kings, Niagra Falls, Sphinx, Pyramids of Giza,
underwater caves.
Subjects/Concepts
The Great Depression, The Golden Age of Greece, Greek Mythology, Philosophy, Astronomy,
Astrology, Abnormal Psychology, Ethics, Sociology, Hinduism, Criminology, computer science,
logical structures, illegal aliens, unsolved mysteries, war history,
modern age science, dinosaurs, world hunger, ignorance, love/hate relationships, B.C/A.D.
***********************************************
Check out this one-man-band!!!
---


---


Copyright © 2017 Private Productions/Web Site Design Frank Flores